Sell more than Shopee
with EasyStore
Import your products from Shopee and sync to more sales channels to grow your sales.
Get Started
Chat with Us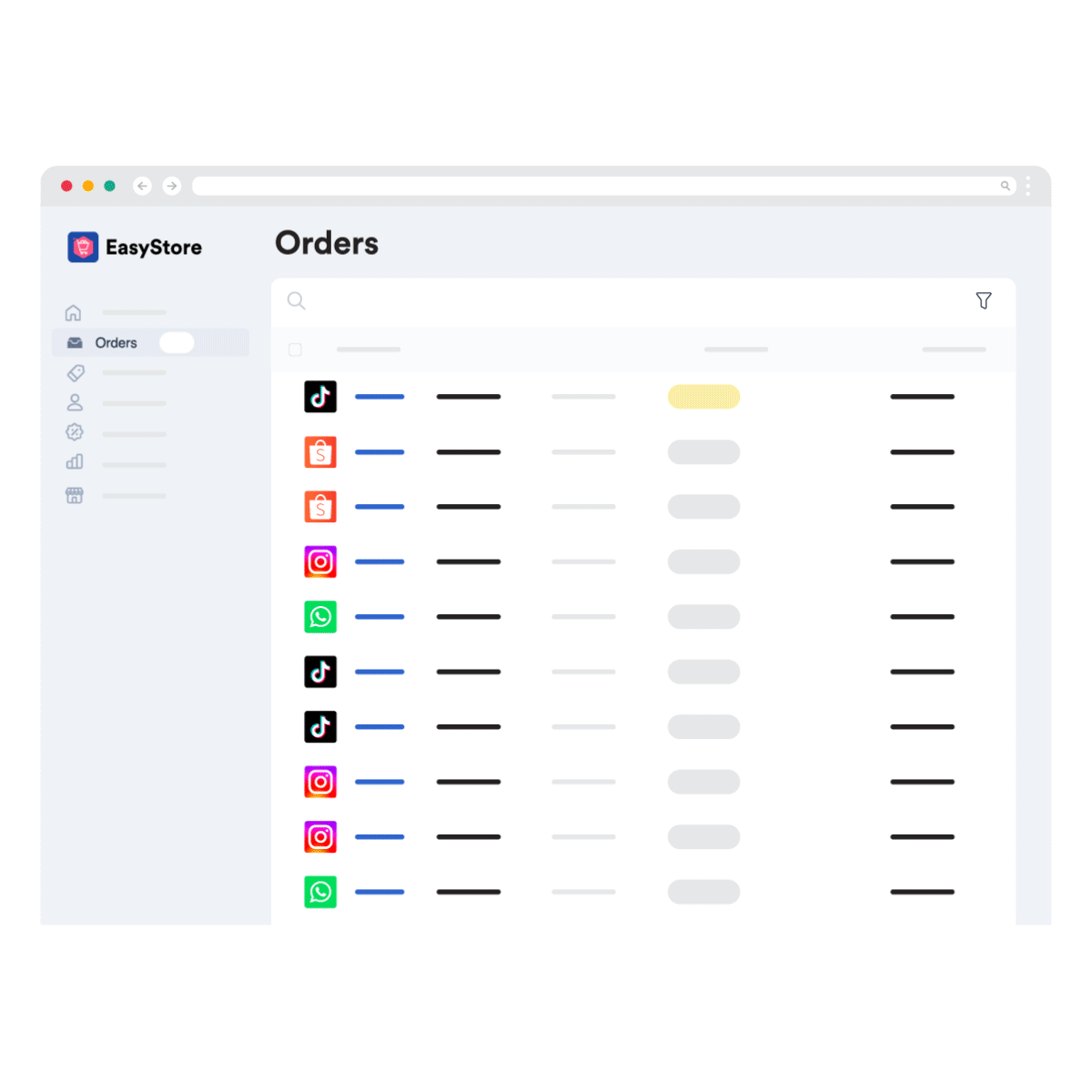 How EasyStore helps you to sell more
Shopee sellers favourite features in EasyStore
Auto product bump

Auto boost and schedule your Shopee products to the top of its category's search results for the maximum exposure.

Photo watermark

Apply attention-grabbing watermark on product photo to ensure your products can always stand out among the crowd.

Display Shopee rating in online store

Captures and display customer reviews about your products from Shopee to your online store in real-time.

Bulk orders management

Fulfill multiple orders and download print airway bills at once with Shopee or third-party logistics integration.

Import products from Shopee

Upload products from Shopee to EasyStore's backend in just a few clicks. Your Shopee reviews and shop rating remain unchanged.

Sync product to Shopee

Quit editing product one by one. You can automatically sync product information from EasyStore to Shopee in real-time.

Auto update inventory

Inventory is automatically updated for all your sales channels to prevent from overselling and underselling situations.

Pre-order option

Never miss a single potential sales. This feature helps to turn sold out product to pre order option for customers to place order.

Selling price adjustment

Enjoy the freedom to set different selling price for all the sales channels you're selling on, to maximize your product profit margin.
How it works?
Import products from Shopee

Start selling on more sales channel

Manage all orders in EasyStore
Plans for every stage
Start selling and taking orders online with plans built for businesses at any stage.
Billed Monthly
Billed Yearly
What's included
No transaction fee
Up to 2 sales channels
Ecommerce online store
Support payment gateways
Social commerce channels
Chat commerce channels
Customer database
2 user accounts
5 app integrations
Most Popular
Everything in Lite
No transaction fee
Up to 5 sales channels
Marketplaces channels
Live commerce channels
Reward credit
Marketing blog
Product templates & scheduling
5 user accounts
10 app integrations
Everything in Standard
No transaction fee
Up to 10 sales channels
Referral program
Loyalty program & points
Messages inbox & broadcast
Wholesale portal
Product shipping profiles
10 user accounts
25 app integrations
Why businesses use EasyStore
EasyStore really changed our daily operations. It eases my work especially on inventory. The best part is it can merge all marketplaces and my retail store into one system. Really like it!

AKUDESIGN

Amirel Amen bin Anuar — Founder

Order processing has been made easier and I especially like the sales report and analytics that helping us better understand our sales performance and strategize our marketing.

fourjei

Ngoo Sze Jie — Founder
Brands that love EasyStore
Start selling with EasyStore
Sell and manage your business all in one place